Takeru Kobayashi of Nagano, Japan has once again proven his mastery of
weenie snarfing
by sucking down 47 Nathan's dogs in 12 minutes. Yeesh.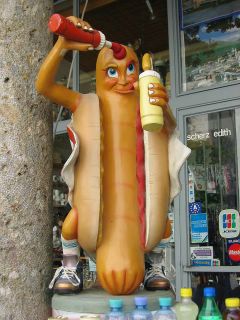 Figure 1: Disturbing hot dog image.
Interestingly, Mr. Kobayashi, who must have a hell of a lot of free time, also holds the record for cow brain snarfing. 17.7 pounds of cow brain.
Figure 2: Cow brain.
What the hell makes a guy get up in the morning and say,
"Yes indeedy! Today I will be the world champion cow brain eater. Yessiree bub, I'm gonna be the best and fastest cow brain eater there is!"
???
Anybody???
I think I'll stick to "things that don't come out of the head", thank you very much. Shoulders, loins, fine. Brains? Nope. I'll leave that for the "Feed a Hungry Zombie" fund.
{{shudder}}