It's a stunning summer night here. It's 73 degrees outside at 11:30 at night, the humidity is 60% and there's been a pleasant breeze all evening. This is what my mother would have declared "good sleeping weather." In fact, she would have called it "heavenly." If I could, I would sleep on my balcony tonight. However, West Nile-laden mosquitos, my freaky neighbors, and fear of the giant woodpecker and owl that live right outside my window taken into account, I'll pass.
Back home, we had a modest screen porch on the back of my parents' house. In summer months, when the weather was good and breezy, my mother would sleep on the porch. Sometimes I would join her – we had a couple of fold-up beds out there, along with a little table and a tiny black & white TV. We'd have dinner out there – tuna or ham with crisp iceberg lettuce on Pepperidge Farm thin white sandwich bread, watermelon or grapes, and diet cherry 7-Up on ice – and watch a little TV. Then, we'd turn in, listening to the crickets chirp, both of us silently reading our books or the latest issue of Ellery Queen.
Sometimes, raccoons would sidle up to the porch, chattering away and looking for entry points. I remember waking up more than once, my face against the screen wall, with the reflective eyes of a curious scavenger inches from my nose. We'd initially had some problems with raccoons when we first arrived in Illinois. Foolishly, we'd left a giant crock of catfood on the porch, and those crafty bastards ripped the living daylights out of one screen panel in order to gorge on twenty pounds of Meow Mix.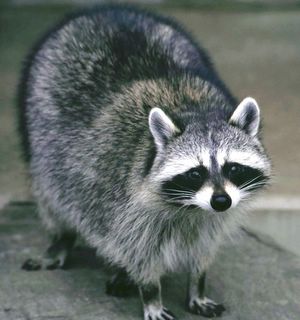 Cute, furry, potentially rabid catfood thief
The crock got moved into the kitchen, the screen was repaired, and my mother procured Super Soakers. She had awesome aim with those water guns. She could smack a raccoon in the face at a goodly distance. I always liked the sound of shocked indignation from the critters as they bolted from the yard, hissing and chattering back in what I always assumed was outraged raccoon profanity.
I miss sleeping out on the porch with Mom just across the way. She was still sleeping out on the porch the summer before she passed away, but there were safety concerns in the end. Mom was blind and had no sense of balance. She took bad falls. And there was a step deep enough to cause problems between the house and the porch. So, out of necessity, she was banished to her bedroom. The last time I came out to visit before she died, she invited me to come in and sleep in her big kingsize bed with her. I think she just really enjoyed the company of having one of us there with her. I passed on the offer – bless her heart, but she slept poorly, snored when she did, and was up on and off all night. She listened to her books on tape at a fairly high volume, and, when she woke up in the night, she'd turn one on – even with the door closed, in the little bedroom across the hall, it would snap me out of a sound sleep as I heard some male voice rumble in the darkness.
Now, of course, I'd give anything to curl up on the far side of the big kingsize bed and chat with Mom until she fell asleep. And tonight, I'd love to be on the screen porch with her, shoo'ing away the raccoons and listening to the crickets and the breeze running through the weeping willow. Instead, I'll brush my teeth and go to bed alone with my copy of Ellery Queen. I'll likely wake up in the middle of the night with my glasses still on my face and the magazine pressing creases into my cheek.
Good night to you all, wherever you may be. I wish you gentle breezes and crickets and a fine summer night. Sweet dreams.