So, Wang Chung wasn't on last night's Hit Me Baby One More Time. They get to suffer in the grand finale next week. As if that wasn't bad enough, I was horrified to hear that another great performer of the '80's - another one I really like and even saw in concert three times - is up on the NBC humiliation block next Thursday: Howard Jones.
Lord, that is so sad. HoJo was no one-hit wonder! He kicked the charts hard '83-'85. And, HoJo has always seemed like such a nice guy. I remember hearing his mom ran his fan club and she sold t-shirts and stuff at concerts. (How sweet is that?) But I guess his following has diminished and his sales slowed considerably since the old days. I see on
his website
that he's selling a bunch of his stuff on eBay.
Yikes.
Major bummer.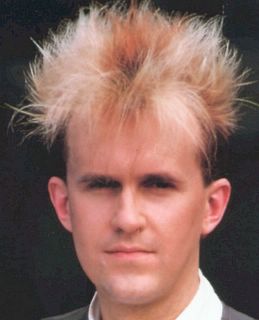 HoJo, circa Big Hair '80's
But, I will say, Howard has toured and toured and toured his brains out over the years. He's got dates listed for upcoming gigs in Europe, the UK, and the 'States, bless his heart. So, while I would love to see Wang Chung kick some ass, I do love HoJo...
Aaaaah, I am torn. Torn, I tell you!

Damn you, NBC! Damn you and your crappy summer crap!