Happy birthday to one of the sweetest guys I've never met!
Paul-chik and I became acquainted through the music of
Thomas Dolby
a zillion years ago, when all the Internet access I had was through work, with a black screen, white letters and the crappiest dial-up account known to man. Yet, even with that rather bland interface, this gent really shined through. He's never failed to be a kind, supportive, and delightful friend (and is far more complimentary to me than I deserve, honestly.) There should be many more men out there like this guy.
Note to Australia: more Pauls, fewer Russell Crowes, please.
So, here's to you, Paul!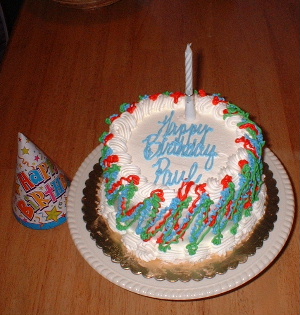 Man, I love Google Images. Type in "Paul birthday cake" and POOF!
Whatever you do to celebrate your birthday today, kiddo, be sure to give yourself a big hug on my behalf and go take a walk on that gorgeous beach of yours - I'll come along, if only in spirit.
I hope to actually meet you someday.
With lots of love from The Swamp That Is DC,
MJ