Do you know the surface temperature of the sun? I do.
It's the exact same temperature it was in Washington today.
How hot was it?
Oh, it was "melt your sunglasses to your face" hot. It was "watch the tourists spontaneously combust" hot. It was "don't even try to get to work without becoming a hideous, stinky liquid sweatball" hot.
I had errands to run and places to go, but frankly, all I wanted to do was sit in my air conditioned car with every vent directed at me, full blast. I actually considered gassing up at a full-serve station, just so I wouldn't have to experience the direct rays of the sun.
Today's heat index was 105 F.
Yeah, it was freaking hot.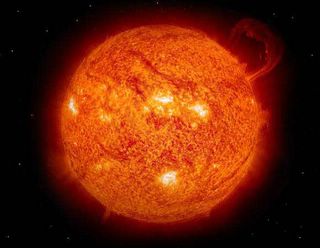 Downtown DC. June 28, 2005.
So, thinking about the Hades-ness of DC today reminded me of a fun little quizlet I took about a year ago. The Dante's Inferno Test: To Which Level Are You Condemned? I recalled last time, I was consigned to the 5th Level, Land of the Wrathful and Gloomy. My friend MEB tested out at the same level.

So good to have company in the afterlife!

I just took the test again, and, lo! I'm still holding on the 5th Level. Bring on the wrath and gloom!

Of the 5th Level, the test says:

The river Styx runs through this level of Hell, and in it are punished the wrathful and the gloomy. The former are forever lashing out at each other in anger, furious and naked, tearing each other piecemeal with their teeth. The latter are gurgling in the black mud, slothful and sullen, withdrawn from the world. Their lamentations bubble to the surface as they try to repeat a doleful hymn, though with unbroken words they cannot say it. Because you lived a cruel, vindictive and hateful life, you meet your fate in the Styx.


The Dante's Inferno Test has banished you to the Fifth Level of Hell!
Here is how you matched up against all the levels:

Take the Dante Inferno Hell Test